Security Awareness Training and Compliance Overview
Our Security Awareness Training and Compliance Program is designed to equip individuals and organizations with the knowledge and skills needed to create a secure and compliant work environment. This program covers essential security topics, compliance requirements, and best practices to mitigate security risks effectively.
What is Security Awareness Training and Compliance:
A Security Awareness Training and Compliance Program is a structured educational initiative within an organization aimed at increasing the knowledge and awareness of employees and stakeholders regarding cybersecurity and compliance with relevant regulations and standards. This program is designed to equip individuals with the skills and information necessary to recognize and mitigate security risks, protect sensitive data, and adhere to legal and industry-specific requirements.
Online Training Get Price
Individual Training Get Price
Custom Training Get Price
Comprehensive Curriculum: Our program offers a comprehensive curriculum covering essential security topics, ensuring participants gain a thorough understanding of security principles and best practices.
Customization: We provide customizable training options to tailor the program to your organization's unique needs and challenges.
Ongoing Learning: We offer opportunities for continuous learning and improvement to keep participants updated on evolving security threats and best practices.
Security Risk Reduction: Equipping employees with security awareness knowledge reduces security risks and vulnerabilities, contributing to a more secure work environment.
Practical Learning: Participants learn through hands-on exercises and real-life examples, making the training practical and engaging.
No Prerequisites: There are no specific prerequisites required to participate, making it accessible to a broad audience.
Continuous Improvement: Feedback and suggestions for improvement are actively encouraged to ensure the program remains up-to-date and effective.
Real-world Scenarios: Training includes practical exercises and real-world scenarios to make learning relevant and applicable to everyday work situations.
Certification: Participants receive a Certification of Completion upon successfully finishing the program, validating their security awareness and compliance expertise.
Compliance Assurance: The program helps organizations maintain compliance with security regulations and standards, reducing the risk of penalties and reputational damage.
Cultivating a Security-conscious Culture: The program fosters a security-conscious workplace culture, encouraging employees to actively contribute to security efforts.
Adaptable for All Levels: The program is suitable for employees of all levels within organizations, from entry-level staff to senior management.
Flexible Delivery: Training can be delivered through various methods, including in-person sessions, online courses, or a blended approach, depending on organizational preferences and needs.
Cost-effective: Our program offers cost-effective training solutions for organizations looking to enhance security awareness and compliance among employees.
Security Awareness Training and Compliance Syllabus
Module 1: Introduction to Security
Understanding the Importance of Security
Types of Security Threats
Consequences of Security Incidents
Module 2: Data Protection
Module 3: Password Management
Module 4: Phishing Awareness
Module 5: Social Engineering
Module 6: Compliance and Regulations
Module 7: Incident Response
Module 8: Secure Remote Work
Module 9: Security Policies and Procedures
Module 10: Security Best Practices
Module 11: Emerging Threats (Optional)
Module 12: Ethical Hacking and Testing (Optional)
Module 13: Continuous Learning and Improvement
14: UNRESTRICTED FILE UPLOAD
17: Cross-Site Scripting (XSS)
18: CLIENT-SIDE REQUEST FORGERY
Upcoming Events
There are no up-coming events
Security Awareness Training and Compliance Certification
Upon successful completion of the program, participants will receive a certification of completion, validating their knowledge and skills in security awareness and compliance.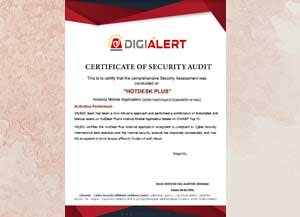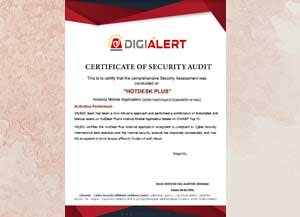 Get Placement by DigiAlert
We provide placement support to help participants find opportunities in organizations that value security-aware professionals.
Security Awareness Training and Compliance Features
Comprehensive curriculum covering security and compliance topics.
Interactive learning with real-world scenarios and practical exercises.
Certification upon successful completion.
Customizable training options for organizations.
Experienced industry experts as instructors.
Security Awareness Training and Compliance Benefits
Enhanced security awareness and compliance knowledge.
Reduced security risks and increased protection of sensitive data.
Improved compliance with industry-specific regulations.
Ability to create a security-conscious workplace culture.
Placement support for career advancement opportunities.
Who should attend Security Awareness Training and Compliance
Employees at all levels seeking to enhance their security awareness.
Managers and decision-makers responsible for compliance.
Security professionals looking to refresh their knowledge.
Organizations striving to create a secure work environment.
Skills u will gain after the course
Security best practices.
Compliance knowledge.
Phishing and social engineering awareness.
Password management skills.
Incident response readiness.
Data protection principles.
No specific prerequisites are required.
Basic computer and internet literacy are helpful.
Security Awareness Training and Compliance Learning Roadmap
Introduction to Security Awareness Training.
Certification upon successful completion.
Module-based learning and practical exercises.
The first step in planning the bug bounty Program is establishing program goals and company objectives
Setting the scope of the program clearly is the most important part of launching the program.
Once the program has launched we will start receiving bugs from Bug crowd Researchers.
Validate de-duplicated submissions and suggest priorities for each valid vulnerability.
The team receives valid ready to fix vulnerabilities with necessary reproduction steps.
Iterating and improving the program
The team then authorizes the reward amount and Crowd control facilitates payment to researchers
After completing the Bug Bounty Training with DigiAlert, you will receive 100% placement support.
Practice on real-world projects that can be shown to potential employers.
Learn from industry experts with more than 12 years of experience in the field.
In the field of Bug Bounty, the average salary is $150,000.
By 2022, demand for Bug Bounty Professional will have risen to 80%.
Google, Facebook, Amazon, Apple, Uber, and many other companies are hiring.
Obtain certification as a Bug Bounty Professional.
Curriculum for the Bug Bounty Course
With a 4.8/5 rating, 1500+ professionals have been trained.

Begin with a FREE Demo with DigiAlert.
Class:
Phone Number:
Full Name:
Your Email Address:
We don't give out your personal information to anyone. For additional information, see our Privacy Policy.
Open to individuals and organizations.
No specific eligibility criteria.
What is the Bug Bounty Training fee?
Some bugs are worth their weight in gold: According to HackerOne, the average bounty paid for major vulnerabilities climbed by 8% year over year to $3,650, with the average amount given per vulnerability being $979. Around 8% of all reports are for critical vulnerabilities, whereas 21% are for high severity vulnerabilities.
The hunter of bugs shall be rewarded with bountiful knowledge.
1 Week Package
Engage in in-person training sessions for a hands-on learning experience.
Suitable for all levels, from beginners to advanced learners.
Benefit from interactive discussions, practical exercises, and personalized guidance.
Connect with a supportive community of learners and industry experts.
Finding bugs is like finding hidden treasures.
1 Month Internship
Training offered to interns within the organization.
Combines practical experience with mentorship.
Primarily targeted at individuals with limited experience.
Regular guidance and feedback from mentors.
Who is eligible to participate in the Security Awareness Training?
The Security Awareness Training is open to employees of all levels within our organization. There are no specific eligibility criteria or prerequisites. We encourage everyone to enhance their security awareness.
Is this training mandatory for all employees?
How long does the training program take to complete?
Is the training content customizable for our organization's specific needs?
What is the format of the final certification exam?
Can employees take the training at their own pace?
Do participants receive a physical certificate upon completing the program?
Is there ongoing support or resources available after completing the training?
Is there a limit to the number of participants from our organization?
How do I get a personalized quote for the training program for our organization?